Ottawa Valley Youth Scholarships 2021
The Ottawa Valley Seed Growers Association is pleased to offer up to three $2,500 scholarships to recognize interest, knowledge and achievement in the Ottawa Valley and surrounding agricultural community.
The scholarships are available to youth of Eastern Ontario and Western Quebec enrolled in at least the second year of studies at any post-secondary College or University, and planning to pursue a career in agriculture. Previous winners are not eligible to receive the scholarship again.
Congratulations to all previous winners – such a great group of young people in our agricultural community!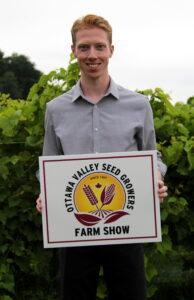 Hello, my name is Travis Dow. I am currently in my first year of the Bachelor of Education program at Queen's University in the Intermediate/Senior division. I grew up on a sheep farm outside of Metcalfe, Ontario, where my family and I currently raise a flock of 25 purebred Suffolk sheep. For nine years, I was an active member of my local 4-H club, raising and showing livestock projects and participating in workshops and public speaking events. I have been fortunate to be able to show my stock across Canada and at the Royal Winter Fair. Through 4-H, I have judged achievement days and regional youth shows in Ontario and Alberta. In the summer of 2020, working at synAgri, I learned new and innovative cropping, fertilizer, and management strategies that I will apply to my personal operation. Working with youth in 4-H activities and summer camp programs has inspired me to pursue a career in teaching. I hope to become a high school science teacher in a rural community, where I can continue to raise a small sheep flock, exhibit stock at local fairs, and be an active member of the agricultural community. I want to thank the Ottawa Valley Seed Growers Association for this scholarship and for supporting youth in the rural agricultural community.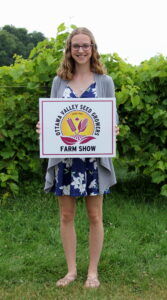 Hello, my name is Sarah Kay, and I am 21 years old. I am entering my fourth year of a Bachelor of Science in Agriculture degree majoring in Animal Science at the University of Guelph. My home is Roslin, Ontario where my family owns a 90-acre hobby farm with 2 riding horses, a herd of Boer goats, and laying hens. My family owned Standardbred racehorses from the time I was a baby until 2019 and I was heavily involved as a groom from the age of 10 until 18. I began in 4-H in 2011 as part of the Hastings Beef Club and became involved in multiple other clubs such as Animal Friends, plowing, horse and goat in following years. I have participated in the National Junior Beef Heifer Show and the Youth Dairy and Meat Goat Shows at the Royal Agricultural Winter Fair on multiple occasions. The past 2 summers I worked for Rossmore Animal Hospital in Belleville as a vet assistant and this summer I am working as a research assistant for Dr. Renee Bergeron's lab at the University of Guelph. After graduation in April 2022, I plan on pursuing a master's degree in Animal Reproduction. I am keeping an open mind as to what career path I take once leaving university, but I want to remain a part of the agricultural community that I love so much!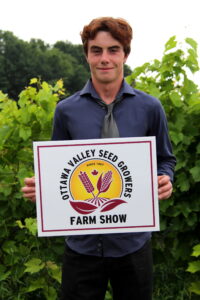 Hello, my name is Bruce Porteous. I am beginning my second year in the mechanical engineering program at Lakehead University in Thunder Bay. I grew up and am currently living on our family's century dairy farm just north of Winchester in Dundas county. I have been a member with the Dundas 4-H Association since I was 9 and have completed over thirty clubs including dairy, judging, woodworking, cooking, and much more. I have been fortunate enough to be able to participate in a variety of activities with my clubs including 4-H provincial exchanges to both Saskatchewan and Alberta , Youth Adventure Camp, and judging competitions. I have represented Dundas county at the Royal Agricultural Winter Fair in Toronto, participating in both the open Jersey, Holstein, and TD Classic shows. I have been relief milking on a few local farms, and I have learned how everyone does things differently and how I have had to adjust my practices to do the job correctly. As for my future, after graduating, I hope to design agricultural machinery with any given company but hope to still be able to manage the home farm. My sincere thanks to the Ottawa Valley Seed Growers Association for offering this scholarship opportunity to students like me who are passionate about agriculture.