Congratulations to the OVSGA Scholarship 2023 recipients!
The Ottawa Valley Seed Growers Association is pleased to present scholarships to four exceptional youth of Eastern Ontario. Each of the recipients is entering at least their second year of post-secondary studies and is planning to pursue a career in agriculture. The $2,500 scholarships recognize interest, knowledge and achievement in the agricultural community. The seed growers have proudly rewarded almost $60,000 in scholarships since the inaugural 2017 presentation.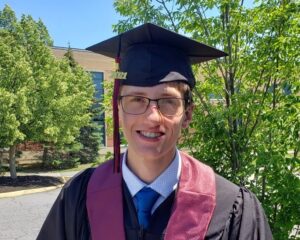 Patrick Daoust of Finch is entering his second year of Precision Agriculture Technology Studies at Olds College. He looks forward to a career of helping farmers optimize their use of precision equipment as well as repairing and retrofitting equipment.
Patrick is an active Stormont County 4-H member completing over 30 projects and participating in club leadership roles. He is involved in Junior Farmers, the Stormont Plowmen's Association, plowing and field crop competitions, and playing broomball. An avid Ayrshire breeder, he enjoys showing cattle, meeting people, and promoting agriculture.
At college, Patrick is the chair of the show committee, planning the 2024 show and judging event. He has been involved with fundraising events and is the student rep for the Smart Farm Integration Initiative Committee, incorporating hands-on learning with the curriculum while interacting with the smart farm. "Upon completion of my studies, I look forward to returning to the home farm and continuing to expand my knowledge of and work with precision agriculture techniques.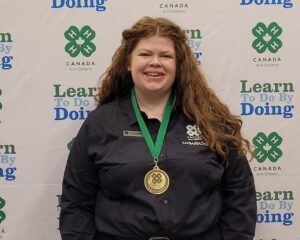 Rhiannah Gallagher is a fourth year Animal Biology student at the University of Guelph with the goal of becoming a large animal veterinarian while raising livestock. Growing up on the corner of a fourth generation family farm near Osgoode, she has been immersed in agriculture and family, from sheep to beef and 4-H to music.
Rhiannah is the current Ottawa-Carleton Queen of the Furrow and the Royal Winter Fair's Sheep Ambassador. "I enjoy these opportunities because my duties have aligned with my passion for educating the public about agriculture, the importance of farming and the many benefits this agriculture industry provides." Rhiannah has been thoroughly involved in the 4-H program, with more than 30 completed projects and a reign as 4-H Ontario Ambassador. She also remains involved with her church community and musical theatre.
While at Guelph, Rhiannah has been involved in activities of the Ontario Agricultural College including the Sheep and Goat Club, Judging Club, College Royal, Dairy Science Club, 4-H and Women in Agriculture.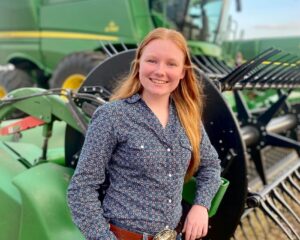 Chloe Pyke is entering her second year in the Agriculture Management Diploma program at Olds College of Agriculture and Technology. A high school urge to explore Western Canada led her to the small town of Olds, Alberta, where she has met people from all across the word. Chloe was raised on a bison and crop farm on Wolfe Island and there developed her initial passion for crops, livestock, and agriculture.
She is spending this summer on a large Saskatchewan crop farm, driving seeding and harvesting equipment. "I have gained much knowledge of maintaining equipment and working on daily shop operations. Driving an articulated tractor pulling a 76' air seeder and 950-bushel cart behind me has been a great experience."
Chloe has a wealth of involvement in her communities, including 4-H, the Wolfe Island Plowing Match, the Kingston Fall Fair, church functions such as Turkey Suppers and the Fish Fry, playing hockey, growing pumpkins and selling at the farmers market. She says, "right now, I am enjoying my western experience, although one day I hope my farm life brings me back to Ontario."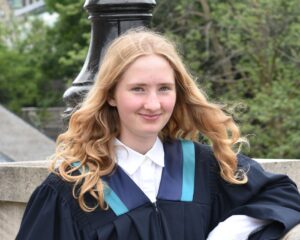 Osianna Williams of Cumberland is in her third year of the biochemistry studies co-op program at the University of Ottawa, where she strives to discover and learn as much as possible. She has always been immersed in agriculture, from the family dairy farm of the past to the mixed farm of the present with bees, maple syrup, chickens, sheep, and field crops. "Growing up in agriculture drew my interest to genetics, GMO and biotechnology. I am exploring many options for the future such as lab work, research, genetics, and developing new products to prepare for giving back to the agriculture industry."
4-H has been part of Osianna's life since the age of 9, participating in dairy, soil and crop, poultry, and vet clubs. Her desire for continuous learning opportunities has led her to roles as president, secretary, press reporter and youth leader.
Osianna has worked at the Canada Agriculture and Food Museum where she shares information about agriculture practices to the public. She has volunteered with community events including farm markets, Lions suppers, fundraisers and flood relief efforts, and instructed swimming lessons.
The scholarships are available to youth of Eastern Ontario enrolled in at least the second year of studies at any post-secondary College or University, and planning to pursue a career in agriculture. Previous winners are not eligible to receive the scholarship again.
Congratulations to all previous winners – such a great group of young people in our agricultural community!
2022 – Samantha Hildbrand, St. Albert
2022 – Arden McWilliams, Navan
2022 – Tanya Regimbald, Sarsfield
2022 – Haleigh-Jo TePlate, Finch
2021 – Travis Dow, Metcalfe
2021 – Sarah Kay, Roslin
2021 – Bruce Porteous, Winchester
2020 – Caitlin Allen, L'Orignal
2020 – Sarah Dean, Arnprior
2020 – Taylor Gillan, Pakenham
2020 – Clayton McWilliams, Navan