Ottawa Valley Youth Scholarships 2022
The Ottawa Valley Seed Growers Association is pleased to offer up to four $2,500 scholarships to recognize interest, knowledge and achievement in the Ottawa Valley and surrounding agricultural community.
The scholarships are available to youth of Eastern Ontario and Western Quebec enrolled in at least the second year of studies at any post-secondary College or University, and planning to pursue a career in agriculture. Previous winners are not eligible to receive the scholarship again.
At the OVSGA 2022 Annual Meeting held in Avonmore August 16, four area youth were the recipients of the $2,500 OVSGA Scholarship 2022:
Samantha Hildbrand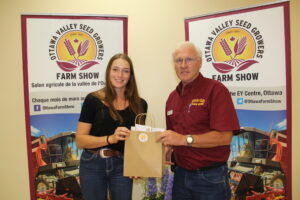 Hi, my name is Samantha Hildbrand. I am 19 years old and grew up on a dairy farm in St-Albert where we milk 125 Holstein cows in a robot barn and farm about 750 acres of land. This is my 10th year in 4H. I have participated in multiple clubs including the rabbit, soil and crop, vet, poultry, financial fitness, bread making, fitness and health as well as the dairy 4-H calf club. I have participated in over 60 dairy shows so far including the TD Classic in Toronto. I study at the MacDonald Campus of McGill in Farm Management and Technology (FMT) where I will start my second year at the end of August. In college, I made connections with so many people from the agriculture industry and learned about subjects like farm accounting, soil fertility, animal anatomy, machinery maintenance and much more. For my summer internship, I am working full time on a dairy farm in St-Albert and I also help out at home. The knowledge that I gain over my 3 years of studies will allow me to better understand and improve the practices on the home farm. I am grateful to be a recipient of the OVSGA scholarship. It supports me and allows me to focus on my studies so I can get the most out of the FMT program.
Arden McWilliams
Hello, my name is Arden McWilliams and I'm 19 years old, entering my second year of study at MacDonald College's Farm Management and Technology program. I grew up on our family farm in Navan where we raise Belgian Draft horses and run a cash cropping outfit. I started working on my neighbour's dairy farm, Sunnymead Farms, when I was 13 years old, learning the basics of dairy farming and working with dairy cattle. Since then, I have worked at Edwards Holsteins in Westport, where I have advanced my knowledge of cash cropping and dairy operations. I have been involved in 4-H for 8 years, with the Russell 4-H club.  4-H has given me the opportunity to meet life-long friends, who have similar interests as I do within the agricultural community.  While I have participated in many clubs over the years, a major highlight and accomplishment of mine has been going to the Royal with my 4-H calf, and I am looking forward to representing my club again in the future. After completing my 3 year diploma at MacDonald College, I plan on working in the Eastern Ontario dairy industry. Nutrition is a main interest of mine, as well as continuing on with the family farm and raising Belgian horses. I would like to take a moment and thank the Ottawa Valley Seed Growers Association and Farm Show for this scholarship and opportunity. It is truly appreciated.
Tanya Régimbald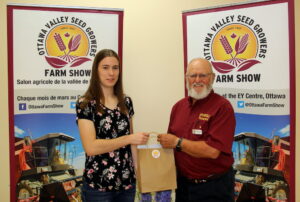 Hello, my name is Tanya Régimbald, and I am 20 years old. I am entering my third and last year of college at the Institut de technologie agroalimentaire du Québec in Saint-Hyacinthe.  I am in the Farm management and technology program with a specialization in dairy production. I grew up on my family's dairy farm in Sarsfield, Ontario, just east of Ottawa.  I have always been interested in agriculture and got involved in Russell County 4-H at the age of nine. I have completed over 38 clubs including the dairy calf club, the soil and crop club, the vet club, and so many more. Last summer, I had the pleasure of doing a coop placement on a dairy and cash crop farm in Carleton Place. I have also worked at a neighbouring dairy farm for a few summers. Along with this work experience, I really enjoy volunteering in my community. Once I graduate college, I look forward to integrating into the family farm by working full-time. While I graduate from college next year, I plan to continue taking specific training courses over the years as I love to expand my knowledge and acquire new experiences. I want to take the time to thank the Ottawa Valley Seed Growers Association for this scholarship. Your generosity and support towards the next generation are part of what makes this industry so great.
Haleigh-Jo TePlate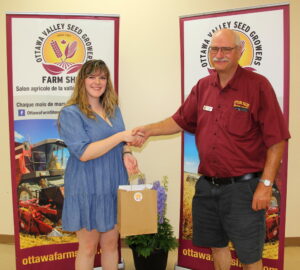 My name is Haleigh-Jo TePlate. I am 20 years old and live on a dairy and cash crop farm with my parents. Earlier this year, I graduated from the Agriculture in Business program at Algonquin College, Perth Campus and in September, I'll be heading out to Olds, Alberta to earn a degree in the Bachelor of Applied Science – Agribusiness program at Olds College. For three years I was crowned Stormont County's Princess of the Furrow and traveled to various International Plowing Matches to compete in the Princess of the Furrow Competition.  I love traveling around the world. Some countries that I have traveled to are: Ireland, Dubai, Holland, and New Zealand. I like to sew and to do crafts. I have made many quilts, masks, and other sewing projects. I enjoy sports and have played broomball in the winter and softball in the summer.
I am an active 4-H member having completed 80 projects in homecraft, dairy, beef, plowing club and belong to the Stormont/Glengarry Junior Farmers, the Plowmen's Association and am also a member of the Stormont County Fair Board. I have also been awarded the John Posthumus 4-H Life Skills Award and the Hudson Family Award at the Ottawa Valley Championship Seed, Feed and Forage Show. My dream is to one day, take over my family farm and to continue working part time as a CSW at my current workplace, The Garden Villa Seniors Residence. I would like to thank the Ottawa Valley Seed Growers for your support as I continue my College studies in Agriculture.
Congratulations to all previous winners – such a great group of young people in our agricultural community!