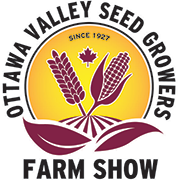 Interested in becoming a partner of the Ottawa Valley Farm Show?
The Ottawa Valley Farm Show is a dynamic, innovative show drawing exhibitors and visitors from across Ontario, Quebec
and beyond. The show facilitates sharing of information, provides networking opportunities and helps build community.
We strive to grow mutually beneficial relationships with our partners, offering many partnership levels as well as specified shared opportunities for show features and partner recognition. The chart below displays some of the common elements, but all ideas and opportunities can be discussed and explored. We look forward to learning more about your company's thoughts and needs.
For more information, please reach out to us at info@ottawafarmshow.com or 613-791-3900.
2023 OTTAWA VALLEY FARM SHOW

Partnership Opportunities

Partner Levels

Red Ribbon

Blue Ribbon
White Ribbon
Yellow Ribbon
Green Ribbon

Pink Ribbon

Logo on web site and in OVFS program
X
X
X
X
Link with logo on web site
X
X
X
Name on website and in OVFS program
X
X
Logo on sponsor boards at OVFS
X
X
X
X
Name on sponsor boards at OVFS
X
X
Recognized via Social Media
X
X
X
Logo Rosette to display in booth
X
X
X
X
X
X
Logo on OVFS Poster
X
X
X
Complimentary Show Passes
20
15
10
5