– As told by Sylvain Gariepy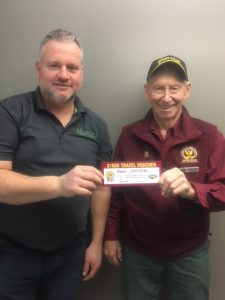 The 2017 Ottawa Valley Farm Show was a great experience for our family.
Last year, our three boys asked us to take them to the Farm Show during March break. We agreed, and decided to purchase our tickets online to avoid the line at the entrance. Doing so entered me in a draw for a $1000 travel voucher, sponsored by North Gower Grains and Carlson Wagonlit Travel in Carleton Place.
When we arrived, the boys were excited to see the big machines outside, and when we got into the show, they had a blast going from one machine to the next and taking pictures. It was a very nice evening and it is certainly in our plans again for this year!
The next day, I got a call telling me I won the draw for a $1000 travel voucher! It was a great bonus to our evening! The voucher helped pay for our trip last summer, when we visited Basel, Switzerland, and Slano and Dubrovnik, Croatia. Thank you!
Note to this year's visitors: You can enter to win a travel voucher this year by completing our short visitor satisfaction survey! Visit ottawafarmshow.com for more information!
In this photo: Sylvain Gariepy and Cecil Cass